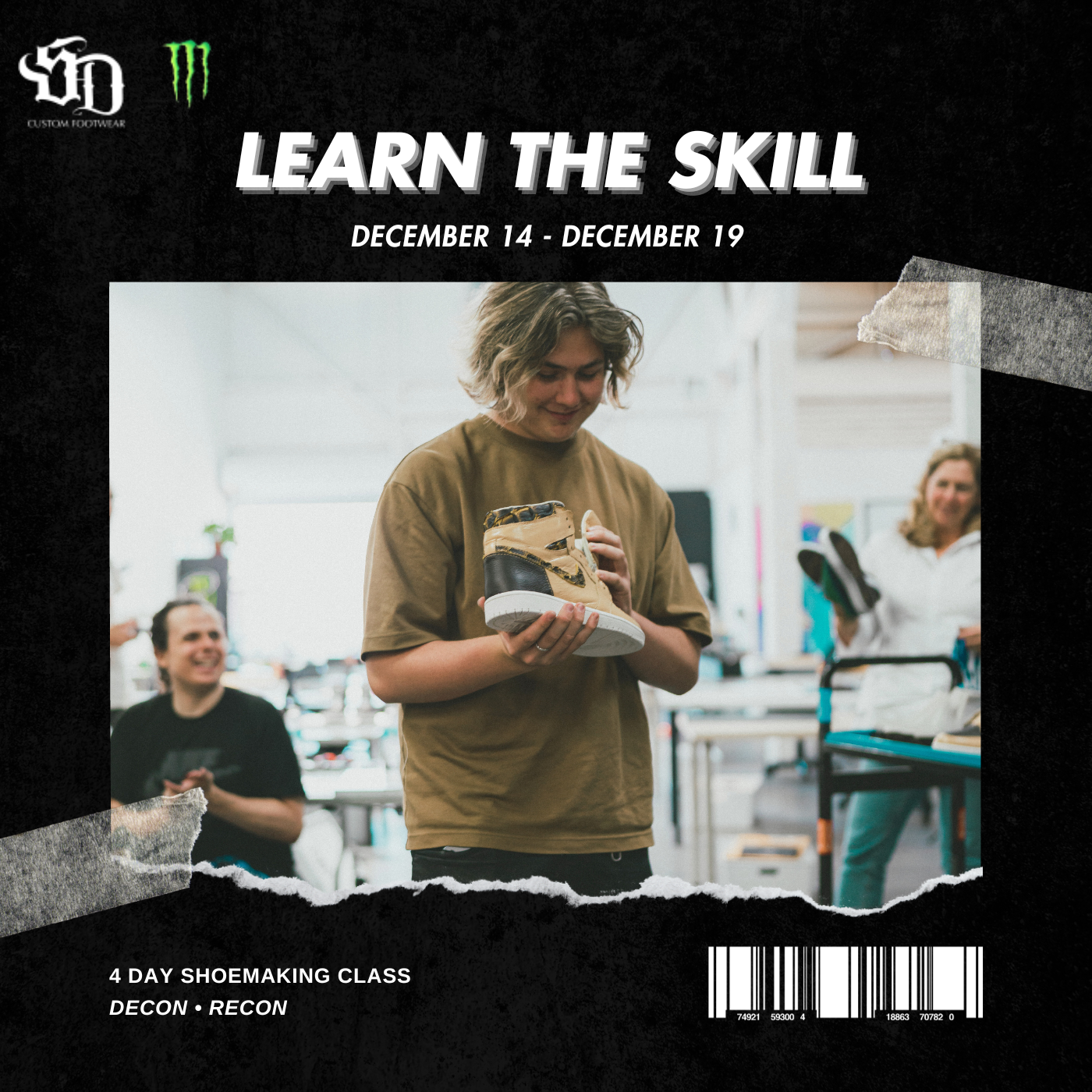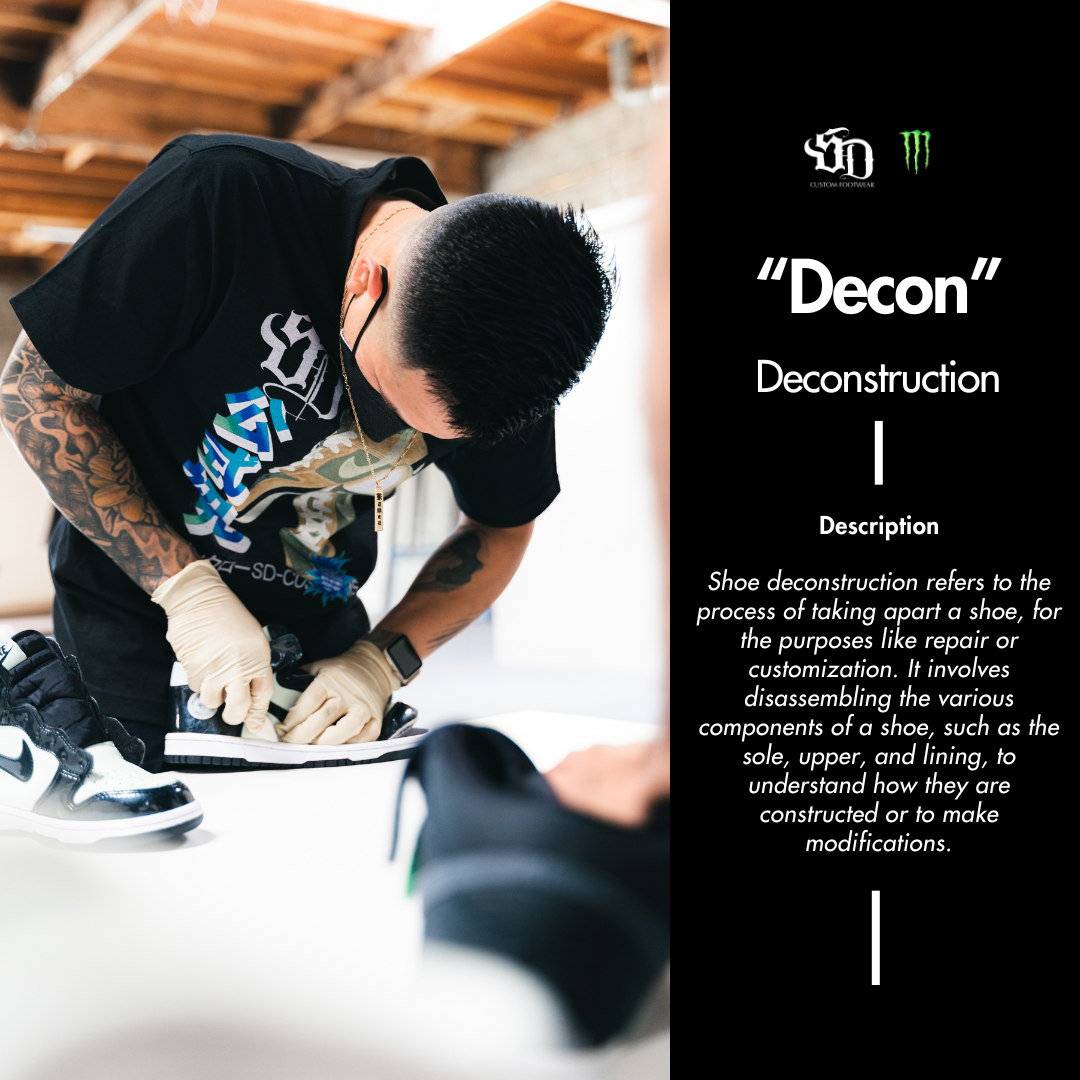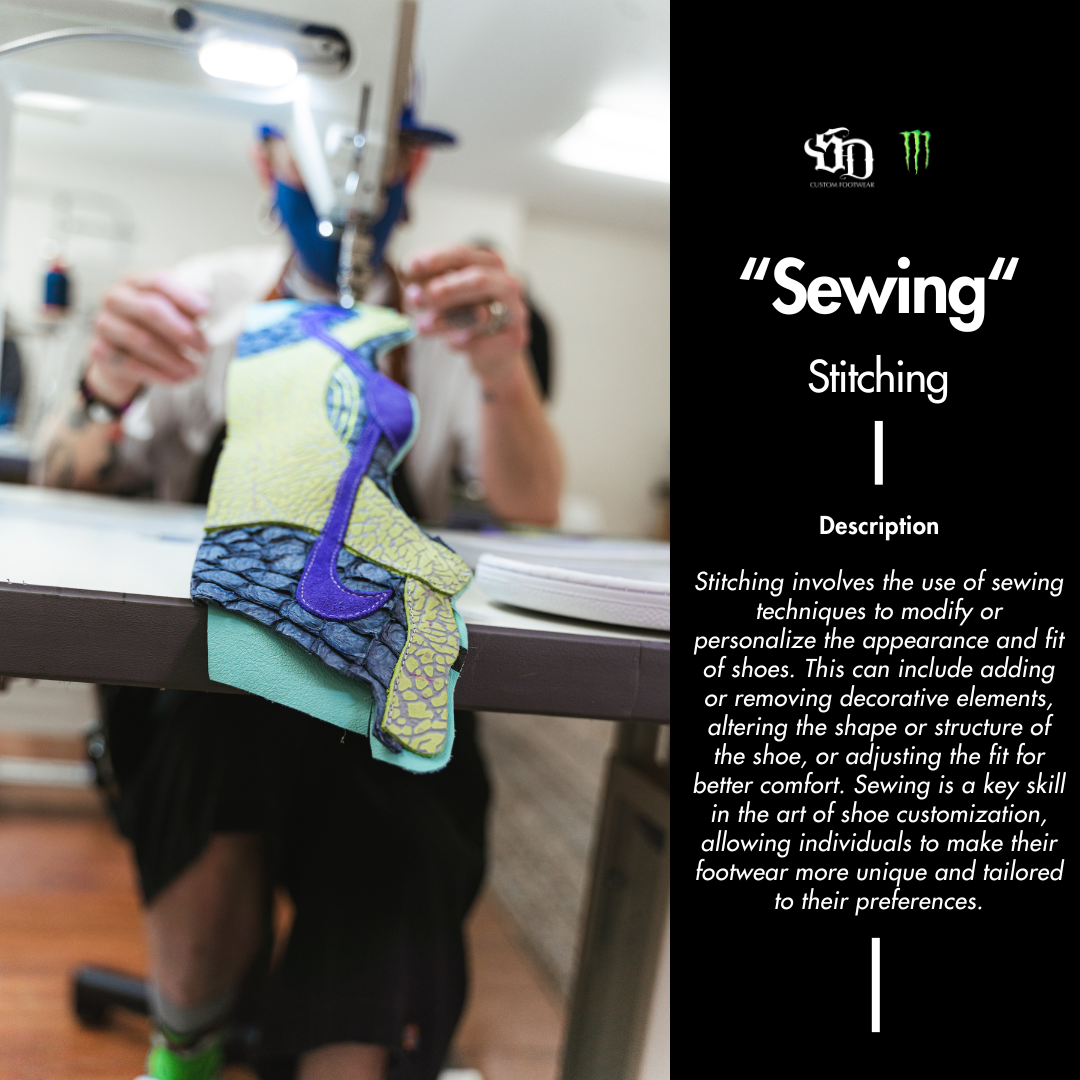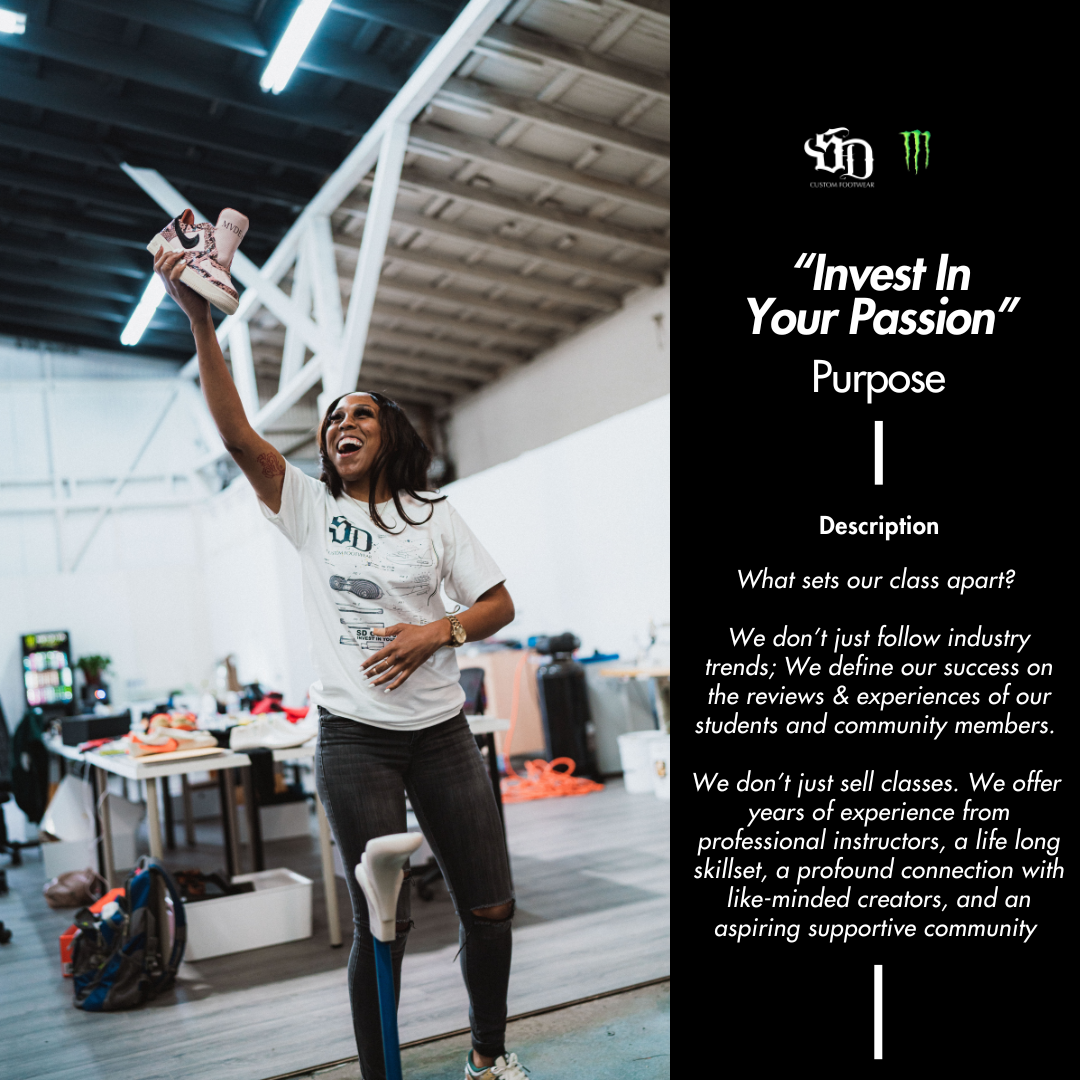 December 14 - 17, 2023: Shoemaking Class
In this 4 Day class, you'll invest in your passion, as Rey Marquez & the SDCF staff will guide you step-by-step into the full sneaker anatomy, hands-on deconstruction, sewing, & finally reconstruction. 
At the end of the class, you will have been fully immersed in the sneaker customization process & your very own 1:1 customized shoe. 
You'll be able to put your vision on feet & select
any 
shoe silhouette from our select patterns. Please note the different 
tier options 
for 'I'll Bring My Own Shoe':
Tier 1 (Basic): Choose from our Beginner level silhouette options (AJ 1 High/Mid/Low, Chuck High/Low, AF 1 Low, Blazer High). Customize from our basic assortment of quality leathers. 

Tier 2 (Grail)

:

Choose from our 

Expert level silhouette options (AJ 1 OW High/Low, AJ 3, AJ 4, AJ 11, Sacai). Customize from our entire assortment of exotic premium leathers. This option also comes with an exclusive toolkit that you can take home. 
We also accept

 

the

 

Monthly Payment Option: 'Affirm' (shown at Check Out)
When: December 14 - 17, 2023 (Starting at 9am PST - 5pm PST)
Where: 105 S. 31st Street Unit #B., San Diego, CA 92113
Duration: 4 Days
What's Included With The Class:
SD Custom Footwear 4 Day Course Breakdown
The Shoe Silhouette for you to customize
SD Custom Footwear Toolkit & Shoebox
Monster Energy Drink gifts & accessories
Unlimited premium

 

& authentic

 

exotic leathers.
Sourced materials & essentials (internal parts, shoe lasts, sewing machines)
Access to specialized discounts for future classes, materials & customized shoes.
We do not accept late cancellations or refunds for the class. Any rescheduling must be done at least 7 Business Days before the 1st Day of the scheduled class (no exceptions). 
What comes with the class?
SD Custom Footwear will provide you with the following:
Course Curriculum
Pair of shoes to customize
Shoe Pattern (of your chosen silhouette)
Personal shoemaking toolkit
Exotic leathers of your choice
Internal construction parts & materials
What about travel & lodging?
Students are responsible for travel & lodging. Prior to the class, we do send you recommendations of the best & affordable hotels near the area. This list was created by SDCF Alumni for future students

.
What else comes with the class?
Aside from your 1:1 shoe on the last day, we do provide you with the toolkit to take home, as well exclusive access to SDCF Alumni discounts on all shoemaking supplies as well as future classes.
I don't have any experience, can I still do this?
Absolutely. Our 4-Day class was created for all experience levels. Each day's curriculum, is broken down to explain the necessary materials, tools & steps in order for you to succeed. Our staff then allows you to go 'hands on', while they guide you through each step of the process. 

There is no previous experience required.
Is there an age requirement?
No, we've had students of all ages & experiences. Take a look at our some of our student reviews.
I still have questions, where can I contact you?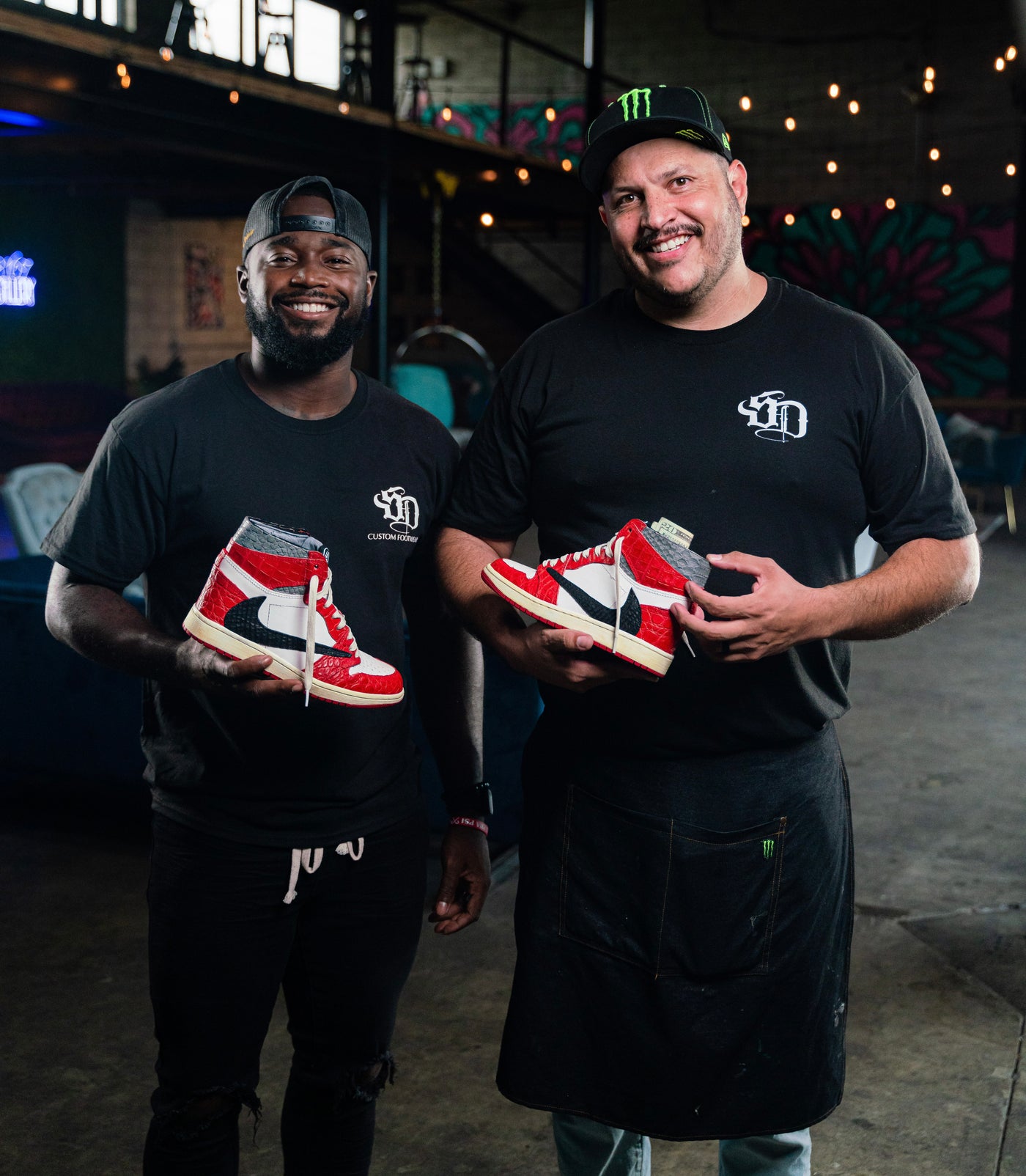 meet your instructor
Rey Marquez
Rey Marquez, Founder of SD Custom Footwear & Reymar Footwear, has been teaching & crafting sneakers for more than 6 years. Rey's passion for teaching has helped more than hundreds of sneaker customizers & built a community encouraged to support each other.
Rey has also worked and hand-made shoes for numerous athletes & famous celebrities.
Rey's work & dedication has allowed him, to open up his own shoe-making class, based in San Diego, CA, called SD Custom Footwear. SD Custom Footwear is now sponsored by Monster Energy Drink, a partnership that is a product of passion, innovation, and influence
Invest In Your Passion
Still have questions? Fill out the form below & we'll respond to you within 24 hours.


See what former students had to say about our in-person class.